Being in Thailand means that you're fortunate enough to be able to enjoy some of the most flavoursome food in the world. Even the simplest of Thai dishes contain a multitude of ingredients, spices, and flavours. However, there are times when a simple burger is a must- either for a quick, simple meal option or to fulfil a nostalgic craving. Here now are 5 of the best places in Pattaya from where to get your fix.
Jim's Burger & Beers Pattaya
In the centre of the city, you can find a fantastic array of burgers at Jim's with enticing names such as "The Apocalypse" and the "Twin-Headed Dragon Burger". Here, the Signature burger is available with beef or pork, cheese, bacon, fried onion, jalapenos, and Jim's special sauce. Their Lava Cheesy Burger must be the cheesiest in town.
In the very heart of Pattaya, the first resale at a hot price is in the just-completed project of Sansiri.
Prime Burger
Prime Burger was founded in Phuket and, in 2019, opened a branch in Pattaya's Soi Buakao. The burgers here all take their inspiration from city names; thus, "London" comes with double egg, "New York" pickles and ketchup and "Paris" with truffle mayo and Dijon mustard. They also have exciting sides such as curly fries, waffle fries, and chilli cheese poppers.
ULB Cafe 
Can a burger ever be a healthy option? The only possible way to introduce it is by leaning towards a restaurant that serves Australian Grass Fed Beef, such as the burgers offered at ULB Cafe. They even have a Vegan Burger on the menu together with fries cooked in coconut oil. Located in Pratumnak Soi 6 & Na Jomtien Soi 4.
Teo's
Over the last couple of years, a selection of new and exciting restaurants have come to the Lake Mabprachan area to service the needs of its local expat community. Teo's brings authentic American Cuisine to the heart of East Pattaya. The buns here are freshly baked every day, and at around 300 baht, this restaurant offers tremendous value for what many consider" The Best Burgers to be Found anywhere in Pattaya".
Rented UNTIL March 31, 2024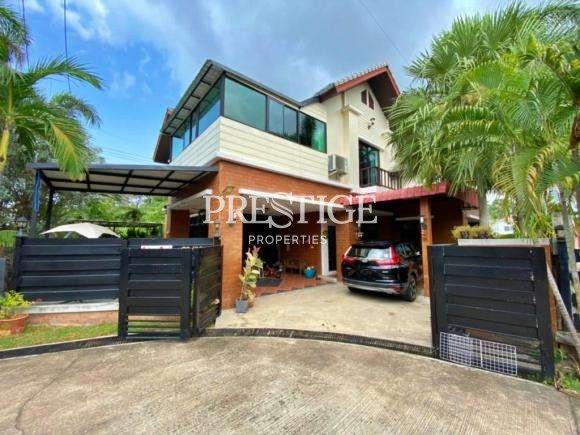 ฿8,900,000
฿45,000/Monthly
Beds:

4

Baths:

3

250

sqm

368

sqm
Very close to Teo's and Mapbrachan lake, lovely four-bedroom pool villa for sale and rent with high potential.
Tigglebitties
A great American restaurant, Tigglebitties, is located on Pattaya Tai 17, the road to the Land Office. On the menu, you can find Pecan Pie, Crispy Chicken, Cinnamon Rolls, Corn Bread, Barbecue Ribs, and of course some excellent burgers that are described as ones "just like Mom used to make".