Pattaya is not only a major destination for holidaymakers itself; it also offers opportunities for "breaks within a break" of every kind. Just a short distance from all the exciting attractions of the country's capital, "The Big Mango", many stunning islands are available within easy reach of Pattaya.
The island of Koh Larn, for example, is only a 40-minute ferry ride from Pattaya's Bali Hai Pier. It is the go-to island for people wanting a day trip with a chance to get away from it all and experience some island life. The proximity of Koh Larn to Pattaya and its day-trippers belies the fact that it has some beautiful beaches and a clear blue sea. Once you arrive, you feel you could be anywhere in Thailand. For example, a short bus or bike ride after you leave the ferry will take you to Tawaen beach, an excellent spot to spend the day just chilling out. The water is crystal clear, the sandy beach is well kept with sun loungers and seaside vendors, and the prices are very reasonable given the beautiful surroundings.
If you choose to hire a boat or go on a Yacht charter from Ocean Marina, there are a host of small islands within easy reach of Pattaya that are interesting to sail around or stop by for some scuba diving or snorkelling. These include Koh Phai, Koh Sak, Koh Rin, Koh Krok and Koh Klet Kaew, also known as Monkey Island, home to many macaques varieties.
Featured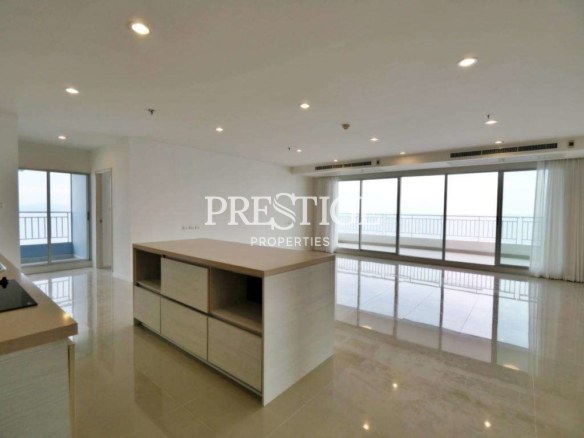 Enjoy a beachfront three-bedroom condo in a very modern with stunning sea view in Jomtien.
A bit further afield but still within easy reach is Koh Samet. Only just over an hour by road to Ban Phe and from there a further 30 minutes on the ferry you will soon be on the perfect white sands beach. This island, in particular, has benefited from the recent slowdown in tourist numbers and the surrounding sea and beaches are in pristine condition. It is an island paradise now. The local hotels are fighting for your custom, and there are some great deals to be had. Also, the local prices in the Thai restaurants and water sports activities offer excellent value.
Going north from Pattaya off of the coast by Laem Chabang is the island of Koh Si Chang. A short road and a 12k ferry ride will see you onto this beautiful island within 2-3 hours. Here you will find secluded beaches and great getaway places to stay. The scenery along the coastline is incredible, and the island is less developed than many others in the Kingdom to give you a natural feeling of getting away from it all and an off the beaten track vibe.
For those with a bit more time on their hands, the island of Koh Chang can be reached from Pattaya in about 6 hours by car plus ferry. It is one of the biggest islands in Thailand, with stunning lush, natural scenery, excellent beaches and a wide variety of places to stay that are ideal for a long weekend getaway. Chang in Thai means elephant, and although the island gained this name because of its large size, there are ample opportunities to see these marvellous creatures during your visit.
Beds:

3

Baths:

3

460

sqm

3900

sqm
In this quiet Bang Saray vicinity, unique property on 2 Rai and a half with sea views.
You may even consider extending your stay to access nearby Koh Kood. This even more unspoilt island is popular with those who love beaches and trails through the jungle to view dramatic natural scenery and spectacular waterfalls.
Currently, around a four-hour drive from Pattaya or approximately 2 hours by ferry (when the service is running ) is the seaside town of Hua Hin. Although quieter than Pattaya, it has some excellent hotels and could be a good choice for a weekend getaway.
Pattaya is also a great starting point from which to visit some top quality golf courses. You can get the best of both worlds as a golfer if you base yourself in the city. Not only do you get the choice of some world-class courses to play, all within an hour's drive, but you can also return to base and have the choice of all the entertainment that Pattaya has to offer.
So there you have it. Pattaya not only has many beautiful attractions to enjoy whilst you are in the city. Just plan some short breaks to explore what is nearby, and you will benefit from an even greater variety of sights to see and things to do.