2019 in Pattaya began in the usual manner with ex-pats, tourists and locals all nursing sore heads from the excellent New Year and Countdown parties that Pattaya holds each year. Everyone was left more than aware that Pattaya could throw a great a party, the problem was, who was the party for? The New Year celebrations were noticeably quieter with western tourists conspicuous by their absence.
Indeed the lack of western tourists was a trait that continued throughout 2019, and this was compounded by fewer than expected Chinese tourists coming. However, there was some good news, Russian numbers significantly increased although there are varying reports about the percentage increase with numbers quoted ranging from 10% to an unbelievable 25%. Indian tourists have also been on the rise too, which has been another bonus for the city.
The increase in Indian tourists has been a deliberate move by both the Tourism Authority of Thailand (TAT) and City Hall who have chosen to target this market with dwindling Chinese numbers. The move seems to have paid off with wealthy Indians coming to the city and reportedly being some of the biggest spenders. Indian nationals have a long association with Pattaya and Thailand in general, so we shouldn't be surprised at the positive impact that they have had along with dispelling some myths along the way.
Beds:

4

Baths:

5

195

sqm

1992

sqm
The selling price of this amazing villa takes into account the strength of the Baht against western currencies
The Thai Elections took place in March, was the first of the major blows to hit bars and restaurants in Thailand. There was an alcohol ban spanning two weekends to ensure that people weren't too drunk to vote! In places like Pattaya, of course, it was the foreigners who were hit the hardest impacting heavily on the bars. "Upcountry" the bans allegedly went ignored except in major cities. The final vote, which was on 24 March, resulted in maintaining the status quo in Thailand, which in itself caused a fair amount of confusion!
Songkran and the real start of the traditional low season in Pattaya were noticeably quieter, which not surprisingly unnerved many of the local business owners. Sadly, this was a sign of things to come, and unfortunately, several bars and restaurants were forced to close their doors, many of whom had been in business for several years. The landscape of Pattaya was changing as quickly as it perhaps ever has done, and the police chief even proclaimed that there was "no prostitution in Pattaya!"
If we take some of the positives from bars and restaurants closing it reduced the oversupply. It is an oversupply caused by a lack of tourists in general. Although not in every case, it was the more mediocre bars that were forced to close, leaving them stronger and more robust bars remaining. With the stronger bars and restaurants staying, this allows them to give their customers what they want, thus benefitting the consumer in the long run. Will monopolies occur? It is highly unlikely as the competition still exists, and falling standards will only have one result.
Flooding, which is a common problem in Pattaya, even after the great work that has been done by City Hall was something that continued throughout the year, causing chaos whenever it happened. Fortunately, although the flooding is bad when it happens, it does seem to drain away and evaporate quickly. Further work needs to be done across the city to address this problem as it does nothing to promote an image of a beautiful family resort.
Beds:

2

Baths:

3

187

sqm

400

sqm
Thai Bali style with high Western standards each villa is tastefully designed the project in Jomtien
The beginning of the rainy season saw the end of "Big Joke's" reign of Head of Thai Immigration, only to return later in the year, to be replaced by Big Oud. Naturally, the move resulted in significant efforts being made to make Thailand as hard a place to visit as possible! Existing rules regarding the TM30 card were imposed, meaning that foreigners had to be registered a new address within 24 hours of arriving – even if you were returning to your property. The unpopular rules are still enforced as we move into 2020 and are a significant cause of frustration for ex-pats living in the city.
The early summer also brought more unpopular changes, this time with the Thai Retirement Visa. The THB 800,000 needs to be kept in the bank for far longer than had previously been the case making it impossible for many ex-pats to stay. The strength of the Thai Baht against other significant currencies made matters considerably worse again, forcing many long-term residents to leave the country. Loopholes have also been closed, which will exacerbate the problem further. The issue was made worse with health insurance becoming compulsory for those on an OA visa with a minimum cover of 400,000 Thai Baht for inpatient care and 40,000 Thai Baht outpatient cover now required.
2019 has been a year that has seen Pattaya and Thailand exposed to serious competition as a place for ex-pats and tourists for perhaps the first time. Vietnam has become a viable option for many ex-pats, with many exploring the options available in the country. Thankfully, the initial uptake has been relatively low, although this does pose a long-term threat if Thailand continues to put up barriers making the country harder to live here. The theory that "they don't want us" will continue.
As we moved into the start of the high season, sports provided a boost to the city. The Long Boat World Championship at Mabprachan Lake proved popular and brought spectators from around the country for the week's duration. The sports bars benefitted from the Rugby World Cup which was more popular than even the most optimistic had perhaps imagined with bars right across the city showing games with the final also being screened on Thai TV. It was only dampened by the prolonged rainy season that we have experienced in 2019.
Rented UNTIL December 31, 2023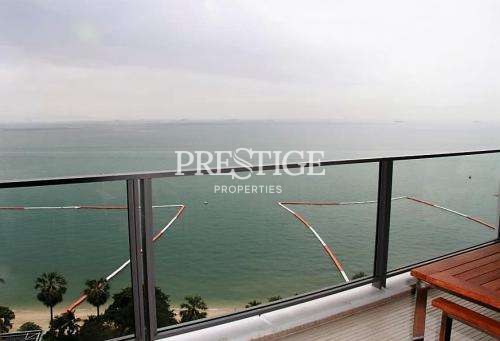 Exciting unit for rent in one of the most popular project in Naklua in 2022
Finally, one noticeable factor about Pattaya in 2019 has been that developers and hoteliers have maintained if not grown in confidence. New projects that had previously been mothballed are starting again, and large plots of land are now being cleared for new hotels and condos. One thing that has been a constant for the last decade or more is that the developers are rarely wrong, even if they do get their timing a little awry from time to time!
Overall, Pattaya has a great future, but 2019 has dampened the spirits of many in the city. Some positivity needs to spread through Thailand and Pattaya, making western foreigners feel more welcome. This move alone will stop most people looking elsewhere as most people living in Pattaya love the place; it is circumstances that are forcing them out.