The Corona COVID-19 virus has had a devastating effect on economies throughout the world, especially in countries such as Thailand that usually enjoy a buoyant tourist industry. Holiday destinations favoured by overseas visitors such as Koh Samui, Phuket, and Pattaya have suffered terribly. Although nobody can dispute the country's exemplary reputation in respect of its control of the pandemic, a boost to the Thai economy is now desperately needed.
Domestic tourism has been actively encouraged with extra-long weekends introduced to give some relief to the hotel and hospitality sectors. However, this can only help to a small degree. The residents, business people, and the ex-pat community have, over the last few months, given significant financial support in the absence of overseas customers. Therefore the ugly spectre of dual pricing is more keenly felt than ever.
Thailand is not alone in the practice of two-tier pricing policies, I have personally seen it demonstrated very obviously in Russia with one queue for the Pushkin palace designated for Russians and the other for "Everyone else". You might argue that in countries where the local community pays taxes for their national parks, museums, and attractions that they should benefit from reduced entrance fees. You might also argue that in countries where the average take-home wage is far below that of the tourists that visit them, there should be a differential. However, here in Thailand, they do not distinguish between foreign tourist and ex-pat, treating them both with contempt.
Currently, foreigners can pay as much as ten times more than Thais for admission fees at national parks and tourist attractions. What constitutes a "foreigner" is, for the most part, determined by a racist definition based on skin colour to the degree that would cause justifiable outrage if somebody reversed the situation in other countries. Also, it is an unfair barometer as the colour of skin alone cannot show who are tourists and who have been living here long term and may be suffering from the same lack of income, customers, overseas pay as their Thai neighbours.
Rented UNTIL December 31, 2023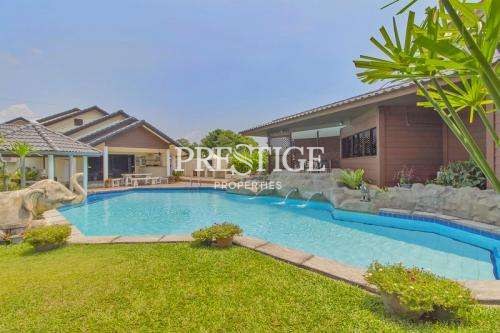 ฿13,500,000
฿60,000/Monthly
Beds:

5

Baths:

4

250

sqm

772

sqm
Massive price reduction of 3 million baht for this 5 bedroom pool villa on half a rai in the centre of the city
Famous blogger and commentator on life in Thailand: Richard Barrow has become so incensed by the practice of dual pricing that he has spearheaded a Facebook group and dedicated website entitled 2PriceThailand.com. These give specific examples of museums, attractions, and places around Thailand, where the practice of dual pricing takes place.
Hopefully, Richard's words have not fallen on deaf ears. It was reported in both The Thaiger and Bangkok Post last month that The Tourism Authority of Thailand might soon put an end to dual pricing for those who live in Thailand by use of a travel card. It would verify an ex-pat's status helping to distinguish them from tourists, so they get charged the same price as locals. TAT would also talk with the National Parks, Wildlife, and Plant Conservation Department, as well as famous tourism sites about setting a fixed price for those who have this new card. Furthermore, TAT's governor Yuthasak Supasorn said: "The key factor is we have to treat ex-pats like locals, without discrimination or a negative attitude towards foreigners."
The Tourism and Sports Minister Phiphat Ratchakitprakarn has also got involved. He said, "I'm planning to discuss offering expatriates the same price as locals with Prime Minister Prayut Chan-o-cha, providing them an equal chance to visit tourist sites such as national parks and temples".
According to the Daily News report, there are up to two million ex-pats in Thailand, with many of them regarded as "business people", who are not a COVID-19 risk as they already live in Thailand full time. Although at present it is not known how different the "ex-pat card" would be to the "pink ID card" already available to ex-pats reports suggest that the Tourism Authority of Thailand would issue this new card. It would help TAT improve its customer database and allow them to offer cardholders incentives to contribute to domestic tourism and help stimulate the economy.
Start From ฿4,409,500 - ฿15,667,200
Beds:

Studio

Bath:

1

28

sqm
Developers like Apus start offering new projects with same pricing for Foreign and Thai quotas
Thaivisa reported that TAT has made ending the practice of dual pricing across the tourism industry in Thailand a top priority during discussions with various government departments, state agencies, and private sector organisations regarding the matter. Chiang Mai and provinces not far from Bangkok such as Ayutthaya, Kanchanaburi, Chonburi, Rayong, Prachuap Khiri Khan, Phetchaburi, and Nakhon Ratchasima are likely to me areas set to see the most significant influx of domestic tourists.
However, domestic tourism alone cannot help boost the economy sufficiently. Even with incentive packages, the increased business created, although helping to some extent brings extra footfall during weekends only. Sadly without overseas visitors, there are insufficient customers Monday to Thursday to help the hotels and hospitality industries. As the chief of ATTA (Association of Thai Travel Agents) has declared more must be done in the third quarter of 2020 to avoid yet further closures of businesses unable to cope with the complete lack of tourists.
At least when the tourists do come back they, along with "foreign" ex-pats will be able to enjoy the same benefits in the real estate market. Newer developments are available without a variation for Thai quota vs foreign quota. So if you need help finding which properties these apply to ask a member of the Pattaya Prestige Properties team who will be happy to let you know, and here's hoping the end to all dual pricing in the Kingdome comes soon.