Pratamnak is one of the quietest and most exclusive areas of Pattaya with some high-end condos, 5-star hotels and of course, some excellent restaurants. Defining exactly where Pratamnak begins and ends is quite difficult so our list of the top 5 restaurants in the area may miss one of our your favourites simply because of the definition of the location. Below are our top restaurants in the area, ones where we are confident that you will enjoy a fantastic meal.
Au Bon Coin
Located between soi 5 and soi 6 on the Pratamnak Hill, Au Bon Coin is something of a hidden gem thanks largely to the limited number of tables that helps create a magnificent ambience. Best described as a French gastro fine dining restaurant, here you will find some of the finest examples of traditional French food in the Chonburi province along with a well-stocked wine cellar that includes some wines from some fabulous, but lesser known vineyards.
L'Auberge
L'Auberge is found on the corner of soi 4 at Pratamnak and is one of the finest French restaurants in Pattaya. The food is simply sensational and the whole ambience makes L'Auberge the ultimate French dining experience. As you would expect, they use only the finest and freshest ingredients to create some real French classics. You will also find some rare dishes on the menu such as veal, escargots and foie gras. This is definitely a high-class eating establishment and one that we certainly recommend that you pay a visit to.
Almost next door to L'Auberge, this is a superb 1 bedroom condo at The Vision with Pattaya bay view

Cabbages and Condoms
Found at the very bottom of Pratamnak soi 4, Cabbages and Condoms is the perfect venue to take in the evening sunset looking across to Koh Larn. Part of the well-known charitable chain, the restaurant has a series of smaller sections that are ideal for groups. They have an extensive Thai and western menu that is reasonably priced as well as ample parking. The food quality is generally very good and the level of service is first-class.
Featured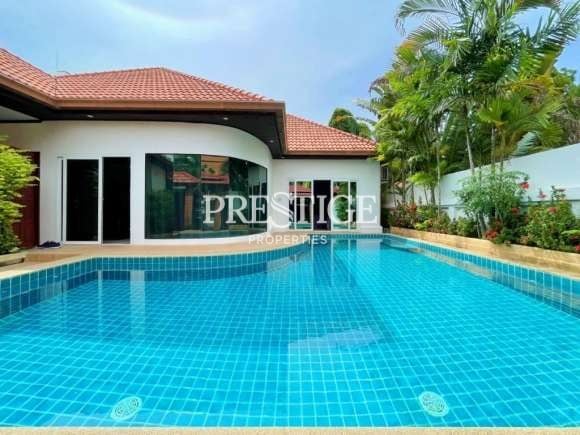 Beds:

3

Baths:

4

130

sqm

296

sqm
Lovely 3 Bedroom Pool Villa for Sale 3 minutes to Cozy Beach, Pratamnak
Sugar Hut
The Sugar Hut can be found on the brow of Thappraya Road at the traffic lights where you would turn to Pratamnak. This is an award-winning Thai restaurant with a team of expert chefs who specialise in offering spicy, authentic Thai cuisine from different regions of the Kingdom. A limited range of western food is also available in this extremely laid back, open plan venue. It is popular for large parties such as weddings and networking events. The prices are slightly expensive but the quality of the food is superb.
O'Gara's Pattaya
O'Gara's is located at the Tara Court Hotel on the corner of Pratamnak soi 5 and is an excellent place to visit at any time of day. They offer a wholesome breakfast menu along with an a la carte menu at lunchtimes and in the evenings. In addition to the a la carte menu, you will also find a fantastic choice of western dishes made from imported meats along with a selection of Thai and Indian classics. The prices are very reasonable and the food is always consistently of a high quality.