When you think of upmarket restaurants and great places to eat, East Pattaya may not be one of the first places that you think of but that is actually quite unfair with the area boasting some fantastic options. It has great international restaurants, family restaurants and places where groups of friends can gather to catch up and enjoy a few drinks. The area has something for everyone and this is just one of the many reasons why people choose to live there.
Ristorante da Marco
Arguably one of the finest restaurants in East Pattaya, Ristorante da Marco is a Swiss/Italian restaurant serving up some exquisite food at very reasonable prices. The homely atmosphere creates a relaxing venue and the fact that the restaurant has an open kitchen makes the whole experience entertaining as well as teaching you a few tricks of the trade. Such is the popularity of the restaurant, bookings are recommended and it is open every day from 5pm except Mondays.
Beds:

5

Baths:

6

430

sqm

2000

sqm
Not far from Pepper and Salt, we have now a very charming house for sale in a very quiet area in East Pattaya
Vientiane Restaurant
This large and roomy restaurant has long been a favourite of those living on the 'Darkside'. Located just off Soi Nernplabwan, you will find the atmosphere is always friendly with plenty of chatting and 60's music playing in the background. The food is also of an excellent standard with the majority of the dishes coming from Thailand, Laos and Vietnam. You will also find a number of western dishes for those who prefer to stay away from the spicier options. The prices are reasonable although not what you would class as at the budget end of the market.
Sunny's
Sunny's is a great place to go with the family and is certainly kiddie friendly. They serve a wide range of Thai and international dishes in a relaxed atmosphere meaning that adults and children can feel comfortable and enjoy their meals. The prices are very reasonable too which only adds to its appeal.
Pepper and Salt
Pepper and Salt is located on Soi Khao Talo in East Pattaya and is a predominantly Dutch restaurant that serves European and Thai dishes. The food really is excellent and the layout of the restaurant has obviously taken great thought. The prices and service are also good so this is another place that you should be heading for!
Alter Wirt
Situated on Soi Khao Noi, Alter Wirt is a relaxed German restaurant offering quality German and Western Food. Thai dishes are naturally also available. We would recommend this place if you are looking for something quick and easy without compromising on quality.
Ticino Garden Restaurant
With the owners coming from Ticino, Switzerland it is not surprising that this restaurant is another that oozes class. Set in beautiful surroundings, although rather hard to find, the restaurant is a great place to go if you fancy something a little bit more upmarket with an ambient atmosphere. The prices are very fair although not cheap.
Livv Finest Food & Drink
Another restaurant located on Soi Khao Talo, Livv offers high-quality food at excellent prices. The restaurant offers an extensive drinks menu to complement your food in an atmosphere that is refined but relaxed. If you want quality without paying top dollar, then this is the place for you.
Rented UNTIL October 31, 2023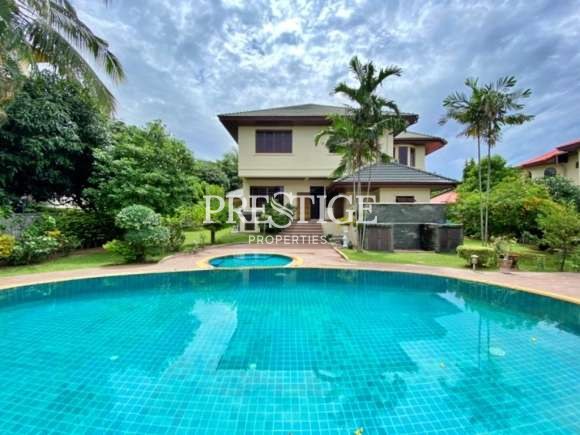 Beds:

4

Baths:

5

355

sqm

1040

sqm
4 Bedroom Pool Villa for Rent in East Pattaya