Pattaya started life as a small fishing village but really came to life during the Vietnam War when American GIs used Pattaya as a destination for their R&R. As a result, bars and restaurants started to open along with a few hotels. As its reputation started to grow, girls from across the country decided to descend on Pattaya interested in meeting the GIs and, of course, become familiar with the US Dollar. Pattaya had started to become what perhaps a decade ago it was famous for or perhaps more appropriately, infamous for and was now known as "Sin City".
Over the years, especially that last decade or so, Pattaya has evolved and changed its image from what could only have been classed in the past as being sleazy. Pattaya is now a great place for families to come where they will feel welcome and safe. Massive investment has been made in the city to attract a more diverse, multicultural and wealthier tourist. Many of the attractions are now focused on families rather than single men which, as a natural consequence, has resulted in the image of the city improving, not just in Thailand but around the world. Certainly, singles and retirees are still welcome in Pattaya but they are no longer the primary focus.
The main visitors that are now coming to Pattaya come from China and Eastern Europe, mainly Russia. These groups are almost always families or couples who are looking to enjoy many of the fantastic things that Pattaya has to offer as opposed to spending most of their holidays in bars. Do they visit bars and nightclubs? Yes, of course, they do but this is just an element of their holiday. Instead, they often prefer to visit the shops, the islands and participate in group activities. Due to the revenue that these groups bring to Pattaya, these are very much judged as the target the market.
Beds:

3

Baths:

3

382.38

sqm

888

sqm
A perfect modern family home in the new luxury village of Mapbrachan Lake

If you roll back Pattaya a decade or so, the main groups coming were single men from the UK, Germany and the US. The idea of western families coming was almost unheard of and would almost be frowned upon. At that time, Pattaya wasn't a place for couples and was pretty much a completely inappropriate place for children. Nowadays, the numbers of western couples and families coming to the city is on the increase. Although they are nowhere near the numbers of the Chinese or Russians, Pattaya is no longer a place that is frowned upon by western families and this trend looks set to continue.
As we frequently mention, Pattaya has evolved a great deal over the years. Where previously you would have been hard-pressed to find entertainment that didn't revolve around bars, clubs or perhaps golf, the options now are superb. Harbor Mall on Pattaya Klang is great for children as too are the water parks. For those who are slightly older, you have numerous places to visit such as Nong Nooch Tropical Gardens, the Floating Market or the Sanctuary of Truth. The ever-increasing number of entertainment options away from bars shows that Pattaya is becoming more family orientated and does suggest that families are more the target market.
As the demographics of Pattaya change, the developers have also changed to meet their new target market. Local developers such as the Nova Group are now investing more in hotels with other developers building investment properties that are designed for short term rentals. Previously, many of those visiting Pattaya would come for three or six months but these days, the average duration of people's stay is typically less than two weeks. As renting a condo for less than a month is technically illegal, moves needed to be made to cater for the changing demand that suits families.
Featured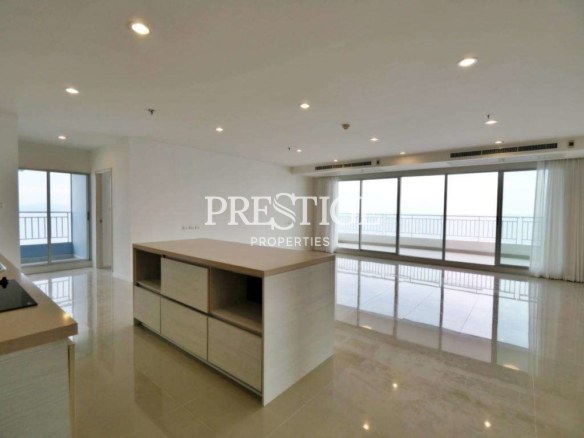 3 Bedroom Beachfront condo with stunning sea view for Sale Jomtien Beach Road
Another major attraction with Pattaya is that it is still relatively cheap in comparison to some other cities in the region. The fact that Thailand is relatively close to Eastern China and Eastern Russian means that travelling costs are kept to a minimum whilst at the same time food, drink and accommodation is excellent value – especially if you shop around. Naturally, there are places where you can pay a lot more if you so desire but you are in no way forced to eat and drink in these establishments. Basically, whatever your budget, Pattaya has something to offer.
Of course, with all the talk of families coming to Pattaya it is easy to forget that singles are still very much welcome in the city. Developers are still building affordable studios that are designed for the end user and the famous nightlife still exists. Many of the bars are now in concentrated areas such as LK Metro or some of the sois in Walking Street. Here you will still find agogo bars and "lady bars" if that is what you are looking for. It is clear that the intention is to try and keep this form of entertainment restricted to certain areas in order to make the place more comfortable for families. This way everyone is catered for and everyone is free to enjoy what the city has to offer.
Pattaya is a very diverse city and in many respects, it always has been and this is often overlooked. There have always been the middle-eastern focused areas such as South Pattaya along with pockets of Indian families who have long since invested in the city. These groups have lived and visited Pattaya often as families, so the concept of families coming and living in Pattaya is not new. Just in past, this group wasn't the main target market.
To conclude, it is fair to say that Pattaya's main target market IS now families although this isn't at the detriment of other groups. What visitors now demand is different from a decade ago and Pattaya has always recognised to need to change and evolve. Families and couples are the groups who are bringing most revenue into Pattaya so naturally, they become the focus. The government has long since said that its focus is on quality tourists and families and couples fit very much with this line of thinking.