Pattaya has witnessed a remarkable transformation over the last few years with a significant shift in the demographics of the city. Undoubtedly, this has been to the benefit of everyone involved as the number of visitors arriving is increasing year on year but this has required some pretty major improvements to the city's infrastructure.
The Previous Situation
Previously, the city's was a sleepy fishing village with decades-old equipment in place that had been designed to cope with a fraction of the number of people. Luckily, City Hall and other major institutions have been proactive in improving the necessary infrastructure and, although there may still be quite a lot of work that needs to be done, it is fair to say that the improvements are there for all to see.
New Infrastructure Projects
Motorway Expansion to U-Tapao Airport
U-Tapao Airport has undergone some serious expansion in the last couple of years and can now quite rightly claim to be Bangkok's third airport. With an increase in the number of international flights both in terms of scheduled and charter flights, Pattaya has naturally reaped the benefits. However, in the past, the road network wasn't designed to cater for larger numbers of coaches coming to the resort as they were designed more for local traffic or short commutes.
In order to combat any potential issues, a decision was made to expand the Highway 331 to U-Tapao and this will connect with the Highway 7 just a few kilometres to the east of Pattaya. This will divert the majority of the traffic away from the Sukhumvit Road in the Sattahip area and take traffic directly into Pattaya.
Rented UNTIL February 20, 2024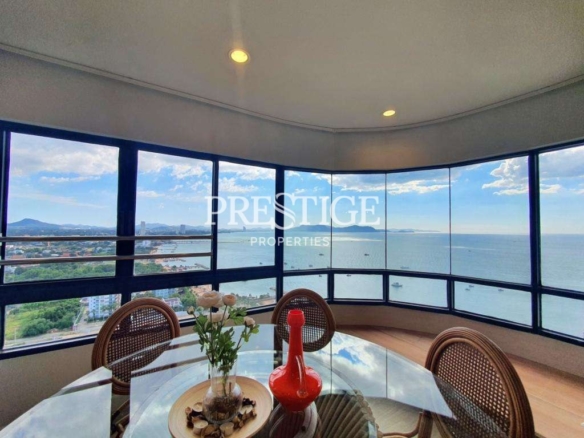 Fantastic value for money for this beautiful 3 bedroom condo at Ocean Marina with easy access to the new highway 7 extension
Tunnel on Sukhumvit Road
It is perhaps fair to say that the tunnel on Sukhumvit Road, bypassing the Pattaya Klang junction, was initially treated with some cynicism. Although the project took longer to complete than anticipated and there was major disruption, the tunnel appears to be a success story. The flow of traffic in the area if far smoother and removes many of the bottlenecks that there used to be present.
Naturally, the cost of this was pretty momentous but it is nonetheless a major improvement to the infrastructure in Pattaya.
Improvement to Drainage
Pattaya has been prone to flash flooding in recent times largely due to the fact that many previous run-off areas are now covered with concrete or buildings. In addition to this problem, the sewerage system, where it existed, was archaic and needed completely upgrading. Massive efforts have been made to address these issues in much of the city and whilst no-one could argue that more work wasn't needed, this is something that has been acknowledged by those in power.
Storm drains have been put in place although the sheer quantity of water in some instances is simply too great. Over the forthcoming years, this is an issue that will unquestionably be addressed and more efforts will be made.
Underground Cabling
Pattaya had become almost famous for the masses of cable that you see hanging precariously from telegraph poles. Not only did this look unsightly it obviously posed a hazard. With landlines rarely used these days and most of the city benefitting from fibreoptic cabling, a decision was made to move cabling underground. This is, of course, a major engineering task but we have already seen cables beginning to be moved underground on both Pattaya Klang and North Pattaya Road.
Smaller sois and roads in outlying areas will be following suit but this will take time but credit should be given to those involved for recognising that these improvements to infrastructure were urgently required.
Improvements to Road in East Pattaya
The road network in East Pattaya was definitely not designed to cope with the number of villages that have sprung up over the last few years. Formerly a sleepy area of the city, East Pattaya is arguably one of the most popular areas for expats to live. All, the amenities are in place such as shops, restaurants, and bars so it seems natural that people wish to live there. The downside is the roads!
Recently, we have witnessed the completion of the improvement to Soi Siam Country Club. Without a doubt, the improvements were long awaited and whilst they were taking place major disruption was caused. Other major roads are expected to follow shortly although major drainage work will be required on Soi Khao Noi and Soi Khao Talo, with both roads more akin to rivers than roads when there is a downpour.
Improvements to the Beach Fronts
The Beach Front on Pattaya Beach Road, the pedestrian part at least, underwent major renovations a few years ago making a far pleasanter place to walk and spend time. Walking areas were made wider, dangerous, older palms were removed and replaced with younger, strategically placed trees and efforts were made to improve the crossings. Once again, this involved significant expenditure but it is something that will leave a lasting legacy.
Similar improvements were made in Jomtien and although there were significant objections, improvements were carried out with many residents and businesses now conceding that the changes were for the best. The beaches themselves are the next areas that will witness investment in infrastructure due to their erosion – again something recognised by City Hall.
High Speed Rail Link
The long-awaited high speed rail link between Don Mueang Airport in Bangkok and U-Tapao Airport in Rayong province appears to be drawing closer. The 28 billion Thai baht project is due to commence later this year with completion anticipated for 2022. Thailand dilapidated railways have come in for much criticism in the past but these improvements will bring the country more in line with many major industrialised countries.
There will be a series of stations along the route with perhaps the most important being in Pattaya. This will greatly reduce travelling times between the two cities and is expected to provide yet another boost to the city's already thriving tourist market. Unequivocally, this is the signal most significant improvement in infrastructure that Pattaya has witnessed in its recent history.
Conclusion
The improvements to Pattaya's infrastructure along with the new exciting commercial developments such as the Terminal 21 that is coming to North Pattaya Road and Tesco at Mapbrachan means that the city is becoming increasingly attractive to both Thai and foreign investors. There are bright things expected in the future and with the constant speculation regarding casinos coming to the area, now appears to be the right time to invest.
Beds:

7

Baths:

9

550

sqm

800

sqm
Very close to the new Highway 7 exit, Just built modern 7 bedroom pool villa for sale in Baan Amphur, Na Jomtien.